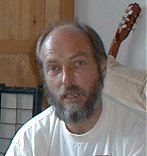 Nigel
travelling man
One day I looked at all the yachts sitting on their legs and keels on the mud in St Helier harbour and saw them in a new way. They were a sight familiar to me since childhood, but that day it seemed to me that this was just like a car park. These were not the playthings of rich people, these were not workboats. These boats belonged to ordinary people, just like me. People who had made a bit of effort to stretch their budgets in order to go sailing. "I could do that", I thought, and began researching to find out what they cost and what makes and models I could afford to look at.
I was born in 1954 in the island of Jersey, UK. Apart from family holidays I did not leave the island until I went to university at the age of 18. I did a BSc(Hons) in Electronics at the University of Kent at Canterbury then went on to a Post Graduate Certificate in Education at the University of Sussex, Brighton in 1976.
For some years I followed a career in electronic engineering then industrial control system sales around Britain. During this time I was introduced to hill walking and grew to love the wide open spaces of Dartmoor, the Peak District and Wales.
As a student I had been interested in everything mystical. In 1977 I became a student of a highly skilled teacher and practitioner of Traditional Chinese Medicine called Liu Hsiu-ch'i - Master Liu. He taught me t'ai chi ch'uan and introduced me to fascinating Chinese philosophies like ch'i, the five moving forces, the pa kua and yin and yang.
In the early 1980s I discovered a real meditation teacher called John Garrie - The Rõshi - in Devon. He taught me really to meditate and introduced me to Buddhism, Zen Form, stillness and peace. Experiences like that do change your life and I really found that I had little interest in the work I was doing or any passion about its success or failure.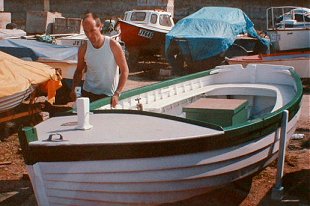 Nigel with Palodillo, a 16 ft traditional, open boat, ready to launch for the first time.
I gave up my electronics sales career and took the perhaps rather extreme step of buying a Volkswagen Camper van and moving off to live in it on the moors and open spaces of Britain. I visited many old friends, went on every available meditation workshop that the Rõshi ran and slowly spent my life savings, at the age of 32.
In 1987 it was time to do something a little more useful with myself. A job was advertised for a Science teacher at my old school - De La Salle College - back in Jersey. I applied and was appointed.
One day in 1989, I was walking around the harbour with my good friend and fellow teacher, Helen, when we came across a beautiful 16ft clinker-built open fishing boat called Palodillo. It had an inboard engine and a mast fitted. And it was for sale. It was almost identical to a boat my father had owned when I was a child. We had never used that boat enough in my opinion. We bought it between us for £900 and did it up for use that summer.
I had never tied a bowline or sailed in my life. Helen taught me all the basics from her dinghy-sailing background. Palodillo was heavy and long-keeled, with a gaff rig and a very temperamental Vire 7hp two-stroke.
The space! I hadn't realised how restrictive I had found this small, crowded island. Putting to sea, even half a mile off the coast, was a real wilderness adventure (especially in that thing, as you were never quite sure how you would get back!). I wanted to push this further. We slept on board in sleeping bags, I motor-sailed round the island - a distance of about 50 miles.
Late in the Summer we made a supreme journey across the open sea to Sark, our nearest neighbouring island. We had a handheld VHF transceiver, sandwiches, one chart and a hiking compass. We used our lifejackets as cushions. We made it into Dixcarte Bay, anchored, went ashore for lunch and came straight back, a round trip of perhaps 40 miles.
We realised that we had done that as much by luck as by good judgement, let alone good navigation in these strong tidal streams. I realised the significance of a deck on a boat. It had been quite choppy on that passage and a lot of water accumulated to be regularly bailed due to spray and splashes coming over the side.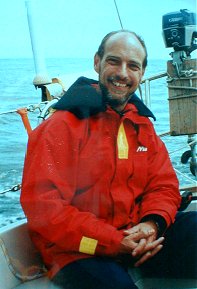 Nigel under sail on Rusalka Mist in the Alderney Race
The following Summer we bought Liza. She was a 21ft Corribee in GRP. A fully decked miniature yacht with a galley, two bunks and a reliable 6hp outboard. We took her to the island of Guernsey (25 miles away) then to Granville (30 miles) and St Malo (40 miles) on the French mainland.
I read every book and magazine I could get my hands on regarding navigation, seamanship, sail handling etc. No-one had told me that a lot of the syllabus of A-level maths is an excellent introduction to navigation. I became interested in radio, we navigated by LF radio beacon direction-finding when out of sight of land and had VHF transmitters. It was all fascinating and I learned fast and avidly - quite literally my life depended on it!
In 1992 I took out a five-year marine mortgage on Rusalka Mist, a Vancouver 28. She is also heavy and long-keeled and is a superb sea boat, well able to look after herself and her crew in any conditions. The first Summer I booked myself on an RYA Day Skipper practical course with Jersey Cruising School Ltd, but I made sure that I sailed Rusalka across to Weymouth and back first - just to see if I could do it!
In 1993 I was awarded my RYA Yachtmaster certificate. I also have gained a radio amateur's full transmitting licence with the callsign MJ0AQJ when in Jersey or M0AQJ/MM when 'maritime mobile'.
I first met Nicky in 1987, but we re-discovered each other in 1995 and she is now an essential and integral part of my life, and of Rusalka's company.