Women Only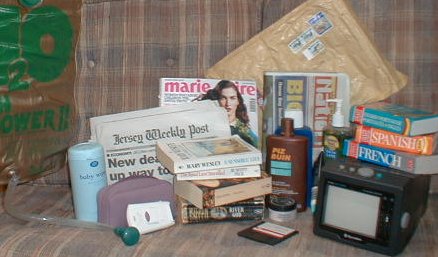 These pages are meant for all you ladies out there who have partners who are dreaming about taking to the high seas with you in tow. If like me you have listened attentively to sea-dog stories after the man of the house has returned from a weekend of sailing, or you have been out pulling the wrong ropes and fending off furiously, letting him feel in control, whilst you don't really knowing what is going on, then these pages are for you.
If you are the woman who has sailed with women-only crews to gain your certificates and are busy getting ready to sail around the world, writing for pilot books as you go, sorry, you will probably feel insulted and amazed at my girlie ramblings.
We had been planning this trip together for two years, Nigel had been planning it on his own for longer than that. I have to admit that I was not sure whether I would really make the plunge until very close to departure.
Courses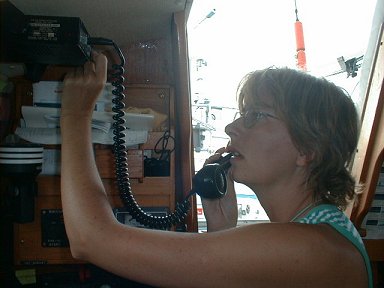 Before leaving on this adventure there were some evening classes to attended and courses to go on. I gained my ship's radio licence, competent crew and day skipper certificates and did a practical sea survival course. I recommend practical course as well as theory. It is also far more fun being with a mixed crew rather than women-only. I say this because my day skipper course was a bit of a flop with me and two other women only. I really feel that mixed crews offer better group dynamics.
Click here for further details on Courses.
I don't hold an amateur radio licence and really wish that I had made the effort. The American licence is easier to gain than the English one, from what I hear. The English licences demands the ability of A-level science and I see myself as a art student...
Click here for further details on Amateur Radio.
Hobbies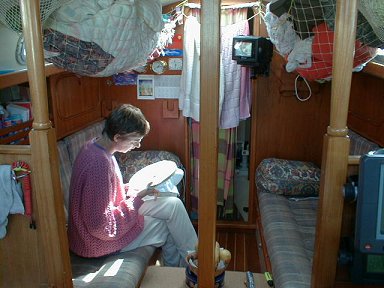 So what sort of things do you need to take with you on this voyage? I seem to have plenty of time to pursue hobbies.
Art equipment has been very useful, especially pencils and pencil colours. They don't mind the damper times as much as my pastels and pastel paper.
Books, books and more books. Swapping books is a great icebreaker in anchorages.
I read in one book that it was too hot for knitting. I had just starting knitting toys whilst still at home and was really enjoying it. I decided to take the advice of that particular writer and didn't bring along my needles and scraps of wool. I really wish I had. As well as the enjoyment of making the toys I might have been able to sell a few or give them away as presents.
Making home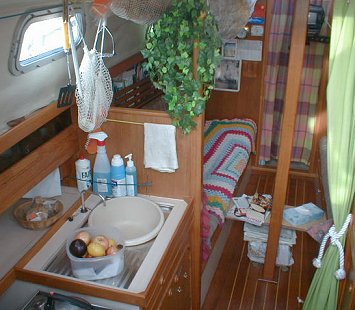 It is really important to make your yacht your home. If, like ours, the boat had been used for short cruises and weekend sails it can lack a few home comforts. We didn't have curtains and after being tightly squeezed into one marina in Tenerife I soon got working on making some. I don't have a sewing machine on board and really wish I had one. Unfortunately hand machines are not easy to come by whilst travelling and we now don't really have the room. If I had thought about it before we left then a home would have more readily been found.
Why not find room for a plant? Ivy or spider plants survive well.
We didn't have a shower on board and a lot of the marina showers, if there are any marinas were you are, are dreadful. We soon did a bit of converting in the heads and with the help of a shower curtain, a solar shower and fresh water we can have a hot shower every day. We have three solar showers and always use one each with another spare.
I am a TV addict so we brought one with us. Local news and weather keeps you in touch with what is going on in the country you are visiting. It is good to know the local politics etc. and you can find out interesting places to visit that are not on the usual tourist track. We also buy local newspapers.
Click here for more information about the way we fitted out the boat for good TV reception and viewing.
Wardrobe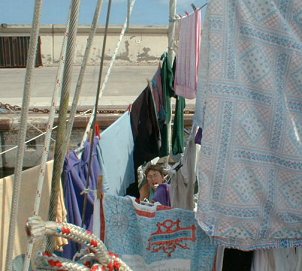 I have needed very little in the way of clothes. My main clothing repertoire consists of a couple of cotton sun dresses, which are really easy to hand wash and dry, shorts and vest tops. Days on board are spent wearing bikinis and swimsuits. A long cotton wrap with a smart T-shirt and a smart polyester-no crease dress has seen me through the smarter occasions, which have been few and far between.
Keeping in touch
Mail from home is always exciting to receive. My father has been wonderful in organising this for us. All our mail is directed to his address and is then forwarded to us when we arrive at our next port. Barbados post office charges Bdos$1.00 per envelope collected so receiving one large envelope is cheaper than receiving lots of individual ones. One yachtie had 30 pieces of mail waiting for him when he arrived at the island, a bit of an expensive surprise! Magazines are also cheaper from home so Dad buys my Marie-Claire and forwards it. We have not had to cancel our subscriptions to Cruising World etc. as they arrive to us in the same way. We have a laptop with us which we used for e-mails. Unfortunately our GSM phone does not work this side of the pond but we have found a excellent internet cafe. This facility can vary in quality from country to country.
Click here for further details about our on-board laptop and Internet link.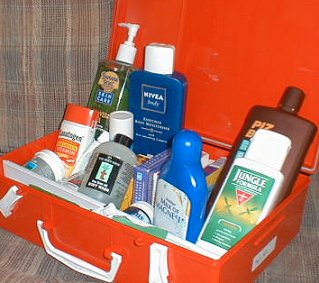 Cosmetics
Now we are in the Caribbean toiletries are very expensive. We stocked up on our essentials before we left and are glad we did. I have come pretty dependent on sunblock and moisturisers - things that I didn't often use at home. Tea-tree oil has also been very useful.
Medicine Chest
We haven't needed to dig into our medical supplies very often. I need a regular supply of antibiotics so made sure that I had a good supply before leaving home. Also Nigel very occasionally needs Ventolin so we have a 'puffer' on board as well.

The Galley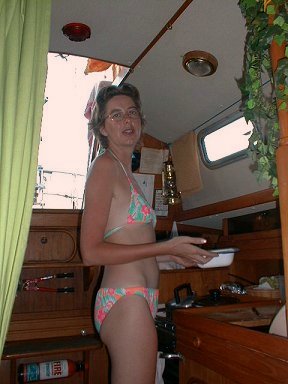 Stock your kitchen with your favourite herbs and spices. Although we have had no difficulty in finding ingredients and love experimenting with local produce, comfort-eating on your favourite meal is sometimes a must! Also, during our Atlantic crossing it was so rough that we lived out of tins. We were glad that we stocked up on a wide selection of these.
I hope that this page might have helped you if, like myself, you are apprehensive about setting out on your adventure. Remember, there are many wives and girlfriends who are enjoying sharing their partner's dream and are not keen sailors who understand the intricacies of the yacht they are on. So go for it! Make it your dream too, you will certainly have a role in keeping the boat a safe and happy place to live in whilst 'magic carpeting' yourself across the waves.