The Atlantic Ocean - 2000: Page 2
As our second ocean crossing got into its stride we were able to make better and better use of our time and of the equipment on board.
CHART
BOX

Sketch Maps and Chartlets (not to be used for navigation!)
© Copyright 1999-2000 Nigel Jones, MistWeb Technology
Antigua to the Azores - 2
The Azores High
At 2100 local time on the 16th May 2000 we entered a wind system created by the Azores high ahead of us and a stationary low near 60° West behind us. From being becalmed we went into winds which fluctuated between 20 and 30 knots (Force 6 - 7) for the next 6 days. Under reefed sail we ploughed along on a close reach. By the 23rd the wind had eased to around 15 knots (Force 4 - 5) and we were able to free the sheets a little so that the boat was more upright. On the 25th we took the reef out and with the wind on the beam we were powering towards the Portuguese island of Faial in the Azores. Under the pure effect of the Azores high pressure system we had a steadily rising barometer, clear blue skies and a steady beam wind.
0455 local time (0655 UTC) 25/5/00 - 35°N 46°W
At around this time I wrote in the journal:
On our west-to-east Atlantic crossing in May/June 2000 we made far more use of the technology we had had aboard all along.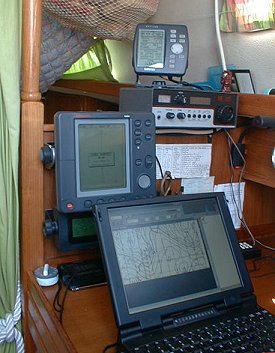 From top to bottom, the GPS gives our position by satellite, the HF receiver picks up short-wave transmissions from all over the world, the radar checks that there are no ships nearby, the Navtex gets text weather forecasts from LF (long-wave) shore-stations, the oven timer tells us when it's time to go and scan the visual horizon again, the computer is receiving weather-fax images through the HF receiver.
Amateur Radio
Daily we checked into two amateur radio nets that were both new to us. We were the guests of Doug VE3NBL, Ernie VE3EGM and the rest of the 'good old boys' on the Mississauga Maritime Net. This meets on 14.1212 MHz every day at 1145 UTC (although they're all there and having a good time by 1130 UTC at least). After that we had an hour's break before catching up with Neville G3LMO, Richard KT4UW and usually Don 6Y5DA on the World-Wide Weather net on 21.303 MHz at 1300 UTC.
In between these two we often had long chats - indeed sometimes ran our own little net - keeping in touch with our good friends from the Caribbean. These included Clive and Margot on Revid, Jelena and Bertrand on Helène and Trudi, Ian and Martin variously on Bajan Phoenix and back home at Joe's Bridge, Barbados. Trudi, 8P6QM, was having a very well-earned break from running their extremely long-standing Atlantic Crossing Net on 21.400 MHz daily at 1300 UTC for many years while they did some sailing of their own. It was delicious fun to QSY (change frequency) with her onto the hallowed and world-famous 21.400 frequency and then sit and chat about family and life and how's it going!
Neville and the gang on the Triple-W net made extensive use of the Internet to get up-to-the-minute weather and satellite information for their small fleet of check-ins every day. We were able to contribute by passing over the URL of an American military web-site which we have used for some years for forecasts of wave-height and wind speed/direction, www.fnmoc.navy.mil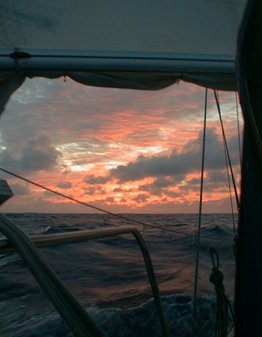 Another stunning mid-ocean sunset. Interesting weather as we entered the effects of the Azores high-pressure system.
Radio Facsimile
After Neville's net it was time, if we could be bothered or if any question remained, to set up the computer for reception of a daily set of weather fax images from the Boston Marine Prediction Center on 12.747 MHz at 1430 UTC. The software for this reception is called JVCOMM32 and is available for a free download in demo version from www.jvcomm.de. It is written and maintained by the German amateur Eberhard Backeshoff, DK8JV. For a mere 120,- DM (or 61.35 Euro or US$68.00 or £43.00 sterling) he will convert your demo version into a full version and this is recommended.
The 1430 UTC set of faxes were quite comprehensive enough for us but the full schedules for both sides of the pond can be found in the Admiralty List of Radio Signals Volume 3(2) - NP283(2) 1999/00, which are well worth having too.
One sched you won't find in the British Admiralty list is that of George, KP2G. When in those waters, tune in to the Caribbean Maritime Mobile Net on 7.241 MHz LSB. Here Lou KV4JH, takes check-ins from 1100 UTC daily. At about 1115 UTC up comes George KP2G, with a very useful weather forecast for the islands and inter-island passages. After five minutes he suggests a QSY (change of frequency) to 7.086 MHz or thereabouts for a more detailed weather net. Here he and the local aficionados discuss in detail the next 48 hours not only in the Caribbean but also much of the North Atlantic.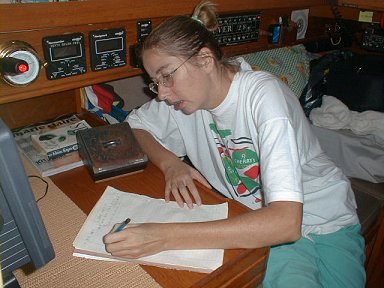 Nicky at the chart-table taking down a weather forecast broadcast on the radio.

Among the audience you will find Trudi and Herb gathering data for their own nets later in the day (21.400 MHz at 1300 UTC and 12.359 MHz at 2000 UTC respectively). This weather net concludes with George using the transmission capabilities of JVCOMM32 to transmit a sequence of faxes and (full colour!) slow-scan TV images of the weather features discussed. With a simple audio lead from your receiver to a lap-top these are all easily receivable using JVCOMM32. You don't even need to retune your receiver.
Herb's Net
Incidentally, we listened to Herb's long and detailed weather and routing lectures some evenings too. We have no transmit licence or capability on that band. Herb's didactic school-master approach to his adoring fleet of nervous Americans is a bit of an acquired taste we feel. I'm not sure how keen we'd really be to "have him on board" if we could.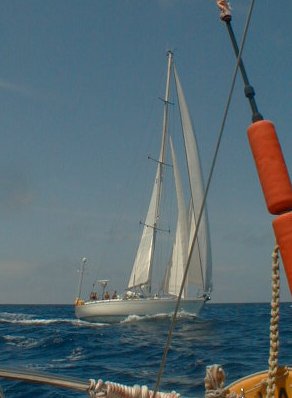 On the 26th May, the yacht Liberator sailed up close to us as they passed, just to say hi and to wave enthusiastically. It was surprisingly moving to meet them like this.
Radar
The radar - Autohelm's SL72 'Pathfinder' model - really earned its keep on these passages too. Up until now we had, somehow, neglected its potential as a third watchkeeper aboard. We used it extensively during fog in higher latitudes but in the tropics you don't get any of that. It gives a useful overview in collision avoidance situations and it can help you keep, say, a mile from a coast without setting a series of waypoints. We've used it to measure distances in an anchorage and to give us a 'distance off' line-of-position when checking a GPS landfall. The main use we had found for it in the ocean was finding and tracking squalls.
Radar Alarm Settings
Until this trip, that is. We set a 10-mile guard-zone around the boat (with a 2½-mile hollow centre to allow for wave clutter) and an Alarm Density figure of 80%. We found that it has better eyes than either of us to give early warning of nearby ships and yachts. By requesting only 10 scans of the horizon between each 10-minute standby period it uses so little power that we can leave it on 24 hors a day.
Gone is our straightjacket of 20-minute climbs up the companionway visually to scan the horizon. We still do watches (we've settled on a 3-hour on, 3-hour off watch pattern) but we are now confident to look out physically perhaps only once an hour.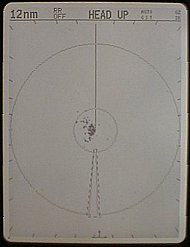 This shows the radar screen with the range circles turned off and the guard zones as we used them. You can see some wave cutter in the centre.
Confidence
This confidence did not grow quickly. To begin with we did not trust the radar at all but continued our look-outs as usual. We see perhaps only one vessel every two days out here so it took several days before we were convinced that in absolutely each case the radar had beeped before the watchkeeper had seen our new neighbour.
Radar Reflectors
In the case of fast-moving merchant ships, they may penetrate a third to half-way into our guard zone before the 10-minute timer kicks the radar on, but the echo is strong and large and there is no doubt that the alarm will be triggered. In the case of yachts with inadequate radar reflectors (like some of the Antigua Week racers overtaking us on their way back to Europe) their approach is slow enough that it does not matter if the 80% setting allows them a few miles into our circle before we are alerted. The guard zone is perfectly sensitive to rainfall and squall activity too so we get forewarning of these.
Of all the changes on board this trip, this one has had the most effect on our quality of life. We rest, we chat, we eat and doze with much more confidence now than we ever did before. The odd false alarm from a large and distant wave is more than made up for by the joy of this convenience.
Please click here for the next part of this Atlantic crossing story.