La Coruña - August 1999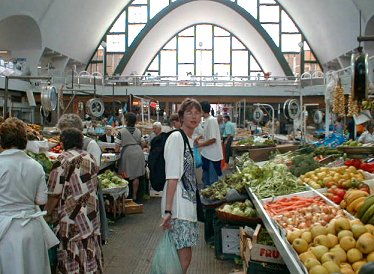 One of the first places we found in La Coruña was this excellent indoor market where we were able to re-stock on vitamin C! Excellent produce.
Dear kids,

How are you all, I hope you are enjoying your Summer holidays. Spain is very nice. They eat a lot of shellfish here - moules and scallops. In the harbour where we are anchored, fishing boats are forever motoring in and out. The wake of the fishing boats makes Rusalka bounce up and down quite fiercely. This can make drinking a cup of tea difficult. They also come in and out during the night so we have almost been bounced out of bed by them!

We have had very sunny weather here. Although yesterday was stormy. We were running out of water in our tanks, so we opened them up and the rain storm filled them within four hours. We were very surprised and pleased about that.

Every day you can see local boats along the waterfront, wiggling their special nets against the bottom to dislodge mussels for the pot. The nets have very long flexible poles and it looks like a real skill to use them.

During our sail across Biscay (Papa will show you on his map) we saw quite a bit of wild life. Pilot whales, dolphins, big whales - we don't know what type - and lots of birds and insects. Moths and bees and some type of wasps landed on our boat for a rest before flying off again. It is amazing to think that tiny insects can fly all that way from land.

We are eating on the boat most of the time, because it is cheaper. The fruit is really lovely over here, peaches and plums are much bigger and taste much nicer. We have not found teabags in the supermarket so we might need some posted out when we run out. We still have a few in store yet.

This very attractive waterfront walk was our first view of La Coruña when we got ashore and was always our stroll into town from the dinghy. This is the view looking back toward the harbour with a fort - now an archaeological museum - overlooking the anchorage.

Nigel and I have read lots of books already, and tell mummy I have a lovely sun-tan. We are not waking up until 10 o'clock in the morning and then spending the day looking around the town or reading and sunbathing on the boat. Nigel is busy working on the web-site. If you go to the library with our web-site address you should be able to look it up.

It's past 7 o'clock so I must go and cook some tea. I will write to you again.

All my love

Auntie Nicky

xxx

Many families of stray cats live in the gaps between ther boulders that make up the sea-wall along La Coruña's waterfront. They do get fed a little by the passers by, but they probably hunt out the rats, mice and other things that share these walls with them.

PS There are lots of stray cats around the harbour.

We have not seen many flowers.

They eat octopus and squid here.

The sunsets are beautiful.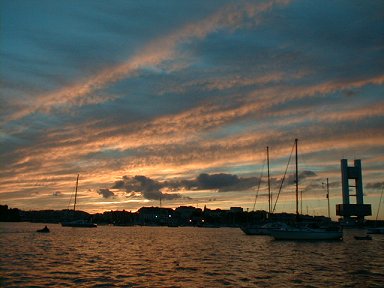 This beautiful sunset, seen from the boat over the town, actually heralded a change for the worse in the weather. Two days of heavy wind and rain pinned us down.
Harbour
We have stayed a week so far in La Coruña. This is not long enough to be able to summarise the town in a few paragraphs, but we are starting to find our way around. We're very happy here.
We are able to anchor for free in the large harbour. We moved our anchor this morning, partly because we seemed to be anchored directly above one of the charted wrecks on the harbour bed and were worried about the chain becoming fouled, and partly to get a bit further away from the direct route the local fishing boats take to get in and out. The chain came up with no problem so that was good, and we're waiting for tonight's exodus to see how we've done avoiding the wakes.
Diver
The man at the yacht club who helped us to fill in our Customs form also turned out to be the local diver and was happy to remove Gilbert, the fishing net we had dragged half way across Biscay in our propeller. The pilot book warns that when you foul your anchor here, the diver is 'expensive'. He did our job for 8000 Pesetas, or about £32 sterling. We were very happy with this.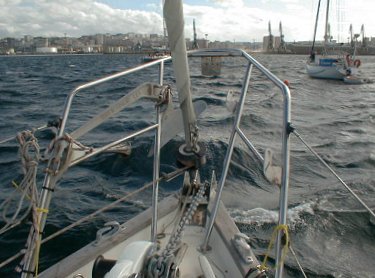 Our anchor has had its first real test when we sat through a real Force 8 gale in La Coruña. It held us perfectly and I didn't extend the chain beyond our 'twelve times the square-root of the depth' formula until after the wind had reached 35 knots in the gusts. Quite a few other boats around us dragged.
Mañana
As you can see from Nicky's letter to her nieces and nephews, we are not pushing ourselves to do a lot. We need a rest, for goodness' sake. We have not stopped rushing around, getting everything ready, finishing work, worrying about it all and then finally doing the crossing. We deserve a holiday!
We have one job left to tackle on the 'problems' list. I have to get up that mast and find out what went wrong with the mast-head tri-colour light. Even replacing a bulb ten or more meters above the deck in here, when the next fishing-boat wake could roll us onto our beam-ends, is a challenge. I hope it is not a major re-wire that's needed. While I'm up there I have a few other minor things to do on the way down, so it's about time. Maybe tomorrow... Mañana...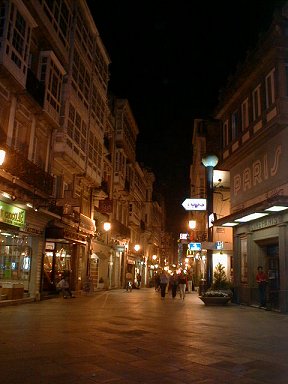 La Coruña comes to life in the evening. Many shops are open late and there are buskers, bars and promenaders galore.
Shopping
Coruña is a town where you could shop 'til you drop. We quickly found the supermarket, underneath the fruit and veg market, as mentioned in the R.C.C. Pilotage Foundation's, Atlantic Spain and Portugal guide. It is not bad, but we did find a much better one further into the main town on Calle de San Andrés. This had a far greater selection of goods and better prices. We have done well with buying English newspapers - only one day behind - and found a excellent bookshop which sells English novels. Lady of Avalon by Marion Zimmer Bradley has been added to our collection.
Plaza
The Plaza de María Pita is the centre-piece of the town. María Pita is described as a 'local hero' and her statue shows her slaying some bloke with a spear - hate to think where he went wrong! To us the square means a chance to sit down with a local Galego beer and get our bearings for the next onslaught on these tiny streets and lanes.
Post Office
The Post Office is a huge building on the waterfront. It is very busy with queues that move very slowly. We have arranged to collect our mail poste restante there. Four days have past since it left the UK and nothing yet has been received.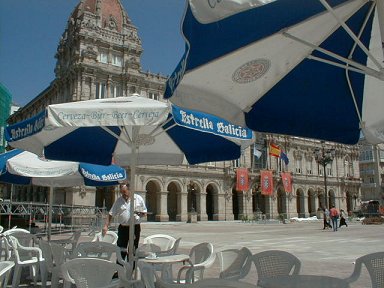 The Plaza de Maria Pita is a real centre-piece of the town. Here you can sit and have a beer while you review your shopping list, eat a good lunch or watch a local band on an outdoor stage in the evening.
Chandleries
The chandleries are further along the waterfront from the Post Office. There are three different styles of chandlery. A brilliant one that caters for fishermen, with huge shackles, hooks, grapnels etc. on two floors. The other two are for the leisure yachtsman. One sells all the usual bits and pieces. The other is for the fashion conscious sailor who has no real concern about how the boat is put together, as long as they colour co-ordinate.
Sights
There are many sights to see around the city. A lot of old churches, museums that open when they feel the need to and of course the oldest lighthouse in the world, built by the Romans, El Torre de Hercules. All in all we have settled in to life here in Coruña with the greatest of ease. We would certainly return for future sailing breaks.