The Bay of Biscay - 1999
Since I first dreamed of long-distance cruising, I knew that the first major trip would be a crossing of the Bay of Biscay. For years, whenever this was mentioned by those who seemed to know, my ears pricked up. Consequently I had gleaned many stories of this notorious stretch of the Atlantic Ocean, from Patrick O'Brien's maritime novels set in the Napoleonic Wars, through World War II Naval histories to more recent yachting stories from books, magazines, friends and acquaintances. None of them seemed to mention that the Bay is alive, with fish, with whales and dolphins, with birds and even insects! Not a day went by without we were visited by creatures of every size, down to the brilliant iridescent plankton screaming in white light as our bow-wave rolled them over.
CHART
BOX

Java, Sketch Maps and Chartlets (not to be used for navigation!)
© Copyright 1999 Nigel Jones/MistWeb Software
Timing is all
It is important to get across the Bay of Biscay before the middle of August, say the books, in order to avoid the risk of the first storms of the Autumn.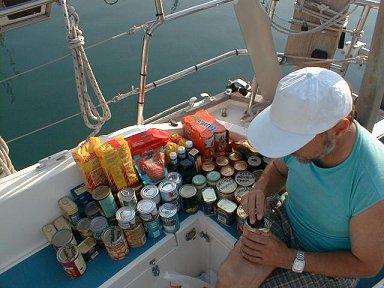 A classic shot of the yachtsman marking the contents of all the food tins with a felt-tip pen incase the labels all come off in the damp bilges. Rusalka Mist's bilges are not particularly damp, but we took no chances here!

We know people who have done the trip in late August and even in October and November. They have lived to tell the tale but they did mention it being pretty rough. So we were ready to go as soon as we could on the 19th July.

On the 18th the forecasts had been very good, talking of north-easterly Force 2 - 4 winds throughout the English Channel and the Bay. It just shows what they know... The 19th dawned dull and windy - blowing from the West. Suddenly all the forecasts were talking about Force 5 -7 Westerlies for the next 3 - 5 days. Our period of settled, Easterly, high-pressure weather was over and the North Atlantic chart was full of fronts and fast moving depressions.

There was nothing for it but to wait. We both have a year off in which to do this Atlantic Circuit. No need to rush into the first (and possibly the worst) bit with the wrong weather and the wrong forecasts.

Departure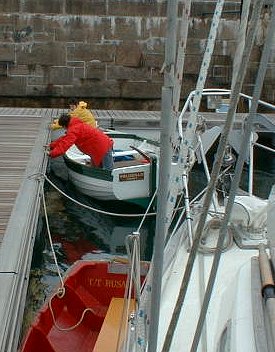 My first boat, Palodillo, arrives, carrying our good friends Helen and Laura, to see us off. You can see from the weather that we weren't going to go on that day. Click here for an old photo of me when I first re-painted Pally for sea.
We settled down to a lazy life aboard in St Helier Marina, our home port. Most of our friends and relatives had said their goodbyes and for all intents and purposes we were already gone in many ways. It was a valuable time for us to clear up loose-ends ashore and completely finish stowing the boat as well as to relax and get some sleep. It had been a busy run-up to our original, very tight, deadline.
Quite suddenly Friday 23rd July arrived, complete with a Force 4 - 5 North-westerly and forecasts of better things to come. We were untied, refuelled and away by 13:30, as soon as the tide would allow. Our good friend Helen was on the pontoon to take a few last minute photos and give us a hug and then help us cast off the shorelines. My brother and Nicky's parents were waving from the pierhead as we passed through and then, as they faded from view, we were on our own.
English Channel
We had sails to put up and the windvane steering to crank into life. It did not feel momentous or particularly life-changing at the time although I was expecting it to in many ways. The first leg of our trip was in our relatively well-known territory of the English Channel. The difference this time was that instead of crossing it as in the past we were heading down-channel for the first time towards the open Atlantic.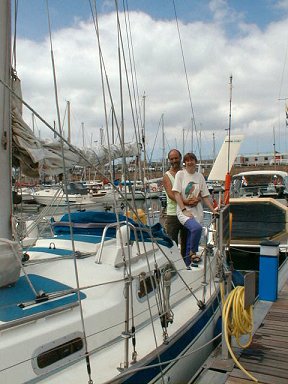 This time really was it. Everthing was stowed and the weather was looking good. It really was time to go.
The wind was about 60° off the starboard bow at 14 knots. We were making about 5 knots under what we call plain sail, that is our high-cut yankee jib, the standard staysail and the full, un-reefed mainsail. The barometer was rising steadily and the sun was setting colourfully as we passed the Roches Douvres, an uninhabited rocky island about 25 miles West of Jersey. For a while we had two square-rigged tall ships in sight as we skirted the North Brittany coast of France. The French are keen on their maritime heritage and do a lot of good things with restored and replica old boats.
Unfortunately, with the rising barometer, our wind was falling and by 21:40 we were down to 3 knots of wind over the deck and decided to forget trying to be purist about things - we started the engine and began to motor-sail under mainsail alone. This continued through the night but by 08:00 on Saturday morning I decided to dig out the nylon diesel (the spinnaker!) and try to make a bit more effort to conserve fuel and spare our nerves of any more engine noise. By 10:00 this was pulling us along wonderfully at 4 to 5 knots with no effort at all.
The wind continued to veer, as forecast, however and by lunchtime it was a question of whether to gybe the kite or to take it down again. The wind had died to little more than a whisper and our speed was down to only about 2 knots so we decided to cut our losses and douse the thing now, going back to motorsailing. It was mid-afternoon before we could get the sails to give us a decent speed again. The barometer had been falling and was now down to 1015 mb, lower than when we had left, having touched 1021 mb during the previous night.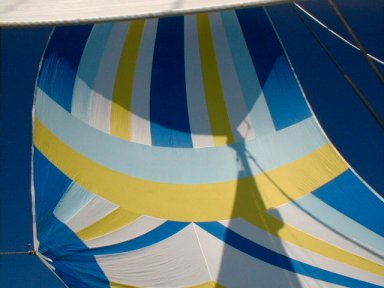 The nylon diesel stuns the sky with its silent majesty and power. Also known as the cruising shute or 'Multi-purpose Spinnaker', click here to see its own little story told.
Saturday night was noticeably colder and I was glad of all the fleece and Velcro built into my Musto 'Ocean' sailing jacket as I kept watch through the busy shipping lanes off Ouessant, France's north-west corner. At 07:30 on Sunday morning we were able to make our turn to the South at 6° West longitude, clear of the lanes. As I put away my big jacket, I wondered how long it will be until I need that again.
Blue-water cruising
The first thing I noticed on Sunday morning as the sun got up into the sky was that the water had changed colour. Gone were the greys and greens of the English Channel. For the first time ever, the water under Rusalka Mist's keel was a deep blue-black. We marvelled at the intensity of the colour. It looked to me as if someone had filled the sea with powdered poster-paint from school, or perhaps blue-black ink - 'Quink' it was called when I used to use it. We were still well within soundings, we had perhaps 120 m of water below us so it is not just a matter of depth.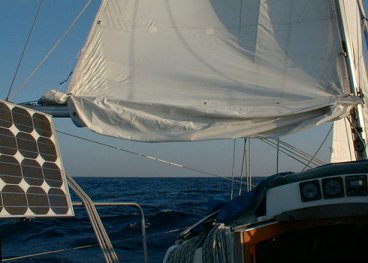 Snugged down to run with the first reef in the main and the stays'l sheeted in hard to help reduce rolling. Note the preventer on the boom-end to stop it gybing. We now have reef-points dangling in the cringles to encourage us not to leave the slab of sail in such a baggy mess in future!
The wind was behind us and piping up. We pulled the first reef into the main and rolled away the jib. The stays'l would not sit quietly behind the main so I sheeted it in hard to make it help to prevent us rolling. There was already a preventer on the main-boom - a rope from the end of the boom leading forwards to the bow to prevent the boom from gybing or swinging across the cockpit uncontrollably. If not prevented this can be very dangerous both to the rig, the mast and to anybody's head that got in the way as it went across. We were to keep preventers rigged for the whole journey and we were very glad of them too.
As Sunday afternoon faded into night we were rolling along before 25-knot winds (Force 6) with 2-meter seas hissing up behind. The waves were higher than the wind-vane and breaking at their tops but they all slipped quietly under our stern as Rusalka rose effortlessly over each of them. We were cracking along at 6 - 7 knots with the wind-vane steering faultlessly, keeping us on course however these little hooligan seas tried to deflect us. The barometer was down to 1012 mb but the BBC shipping forecast and the Météo-France forecast on the Navtex receiver both doggedly insisted that we were, and would continue to have, North to north-east force 3 - 4 winds, light to moderate.
This wild tale of derring-do continues. Please click here for the next gripping instalment.