Cockpit Tent
Christmas is coming...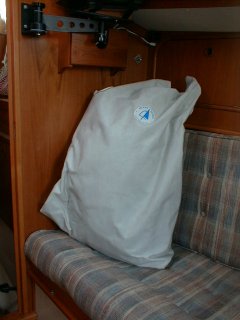 The cockpit tent has no rigid members and so stows in a very reasonable space.
In the late winter months of 1995, Nicky and I were living aboard Rusalka Mist in St Helier Harbour, Jersey. We were both working hard for our employers, and working hard on the boat, and we had some parties and celebrations coming up at Christmas and New Year that we wanted to host on board. We were running out of space. Things were feeling a little cramped.
My German friend, Jelena, has a small but beautifully formed cockpit tent aboard her 32 foot yacht Musel. The boat had acquired this addition during its life in Norway before she bought it. I began to wonder if we could tent over the entire cockpit are of Rusalka. One evening it all came together in my head and I sat down with a pencil and drew our back end with a 'transparent' tent stretched from spray-hood to aft-deck. I took the drawing eagerly to Bernard Amy, our local friendly sailmaker, aka Island Yachts.
Sailmaker
"You don't want anything like that," he told me immediately. "I'll cut you out a boom tent that you just lash to the rails either side."
"No, I'd like you to have a go at making this, if you can," I replied.
"But it'll cost you a fortune," he rejoined. I love this way of doing business, where you end up on the wrong side of the money argument, and keep going anyway.
"What? More than £500? Honestly, Bernard, it's worth it to us."
"Well, about £500, but you don't have things like that on a yacht. She'll look daft. You only see huge tents like that on power boats. It'll spoil the lines."
Eventually he caved in and agreed to make it for us. He took my pencil-sketch and pinned it above his desk in the sail-loft, but muttered that he was very busy and had no idea when he would get around to it.
| | | |
| --- | --- | --- |
| | | |
| Step 1: All lines and sheets must be cleared out of the cockpit and made fast on the side-decks or aft-deck. | Step 2: The tent attaches to the twin back-stays with normal sail hanks. Care must be taken of the SSB antenna feed. | Step 3: Main structural tapes are tensioned over the spray-hood to strong points forward. Unfurl the 'walls' next. |
Built
In the end it cost £564. It has more than earned its keep in allowing me to keep working on the interior, to store wood and boards in filthy weather and by easily doubling our living space when we are holed up. Bernard soon had the job in hand and seemed increasingly proud of it as time went by.
| | |
| --- | --- |
| | |
| The main halyard tensions the whole thing once the sides are clipped down. | The structural tapes are strong enough to provide a safe grab rail from outside. |
"You see, Nigel," he told me after a while, "a thing like this, it's not just sewn, it has to be built like a house or a boat. It's just that it's built of cloth, not of wood."
It has no rigid frame at all. It clips to the twin back-stays with sail hanks and then two strong tape members are pulled forward over the spray-hood (whose rigid frame was there anyway). These tapes are looped and tensioned to the grab-rails over the ventilator cowls. Two side 'walls' hang from the tapes and a third hangs down between the backstays. Each of these walls has a door in it with side-zips and a way of holding them rolled up. The static parts of the walls are held down to the outside of the cockpit coaming with small twist catches. The 'roof' has an eyelet in the middle where you attach the mainsail halyard. Pulling gently on this tensions everything, including the walls, and provides a pitched roof so that the water runs off.
| | | |
| --- | --- | --- |
| | | |
| With the tent up a new, dry and snug space is opened up for life on board. This nearly doubles our indoor space. | The doors roll up and allow easy access to the side and aft deck. 'Fly zip'-style flaps keep the zips themselves rain-proof. | The main saloon table (for details click here) can be screwed to the grating in the cockpit. Dinner in the conservatory! |
Clear away
You have to clear all ropes and lines out of the cockpit before you can put it up. The main-sheet has to be unclipped from its traveller and goes very neatly onto the u-bolt provided on the side-deck for the jack-stays. I have added extra large quarter cleats on the outside of the coaming for springs, stern-anchors and the drogue. These happily accept the jib-sheets and the jib furling line. The solar panels have to be swung out but they still work and one or the other is usually catching some sun.
Putting the tent up is five-minute job - ten minutes on your own in a bit of a wind - and the extra, dry and snug space is well worth the effort. I had Bernard add a second eyelet on the inside of the ceiling as this is a strong-point (held up by the main halyard) where wet clothes can hang to dry. An extra layer of strong tape, looped to the outside of the main structural tapes, provides a useful grab-rail when entering or leaving. I asked him to sew us a loose but weighted piece of mosquito netting around the bottom edge to keep the bugs out by sitting on the side-deck. He gave me such a withering look over his glasses that I let that one go. Maybe, if we do have bug problems in the tropics, we'll do that bit ourselves...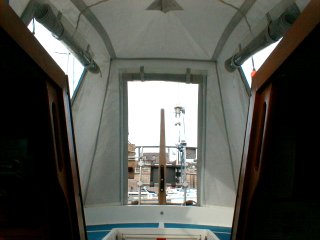 The tent can be opened up in three directions to provide shade and plenty of air when the weather is warm.
Surprise
One wet winter's day we were sat inside the boat in Jersey's marina. The tent was still quite new and was flapping gently in the strong Westerly wind. It made an extra bit of noise and we both looked out of the open companionway at the silver cloth. Oh, well, we thought and looked back down. A minute later it did it again, kind of pulled and twanged back. We looked at it, then at each other, then the boat lurched to one side and we both leapt up the steps.
I pulled up one of the zips and saw that there was a man right there on the side-deck, closely inspecting our stitching.
"I am sorry!" he said quickly. "We didn't know anyone was aboard!" His wife was still on the pontoon and I don't know who had been made to jump most, us, him or her!
"Bernard Amy sent us down to have a look at your cockpit tent," he explained, "He says they're marvellous and we're thinking of getting him to make one for us. How have you found it?"
Several other local boats have since sprouted one. Bernard seems to be their greatest advocate and my pencil sketch had a central position on his sail-loft notice board for a long time afterwards, I remember. I hope they're all happy with the design.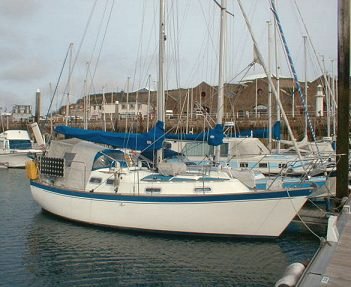 It does look a bit like a garden shed on the back there, but I don't think it ruins the lines that much. We like it!